Boutiques and ateliers
Remember that perfume you've always wanted? Designer clothes for a special occasion, jewellery, watches, accessories, cosmetics, souvenirs: somehow the objects you buy on holiday always remind you of the pleasure you experienced at the time. Why not take the opportunity therefore to visit all the stores on the ship? They're open while the ship is sailing and offer attractive duty free deals. Are you looking for an original idea? Visit the Emilio Robba collection for Costa Cruises. Lots of exquisite ideas for people who appreciate the beautiful things in life, people who love to amaze and be amazed. You'll find it aboard Costa Deliziosa, Costa Luminosa, Costa neoRomantica, Costa Fascinosa.
Smile, you're on holiday!
Cruises create so many happy and carefree moments: from cocktails by the pool to romantic dinners, evenings at the disco, children playing... It really is like in the movies. Luckily, our on-board photographers are always ready to capture the moment and any special occasion, allowing you to take the most beautiful memories home with you. Remember also to visit the Photo Shop, where you'll find all the photography and telephone services you might need on your holiday.
Luck awaits you at the Casino
While the ship is sailing, there's time to have a go at everything, which includes placing a bet at the Casino. Slot machines, roulettes and poker tables await you, so why not try your luck, have fun with your friends and spend an evening that's out of the ordinary? Remember that you'll need cash in order to play, with the exception of a few ships where you'll be able to use your Costa Card as well. Entry to the Casino is restricted to people over the age of 18.
À la carte Club Restaurants
The magic of Costa's exclusive à la carte Club Restaurants derives from the elegance and luxury of the environment we have created. Indulge in an exceptional gastronomic experience, based on great taste and authenticity. The excellence of the ingredients used in preparing our dishes, and the expertise and creativity of our highly trained chefs will make your dinners very special occasions, magical celebrations of the culinary arts.
All Inclusive beverages
With "All Inclusive beverages" you can sit back, relax and sip a drink or a glass of wine at lunchtime, dinner, or at any time of the day. The only thing you'll have to worry about is enjoying you holiday.
All Inclusive beverages*:
All Inclusive beverages*: includes a selection of alcoholic and soft drinks by the glass (draught beer and wine) and coffee, with the exception of Mini Bar products ad premium brands.
Adults (18 years and over): € 19.50 per day, including service charges.
All Inclusive Young beverages*:
All Inclusive Young beverages*: for the kids, includes a selection of soft drinks by the glass, with the exception of Mini Bar Products.
Children/teenagers (from 4 to 17 years): € 10 per day including service charges to be booked in combination with the All Inclusive package.
You can book directly online the "All Inclusive beverages", with your Name, Surname and Booking number of your cruise.
Cruise for two
Relaxing with your partner
Discover all the benefits of exclusive relaxation treatments every day in the wellness centres on our ships. Enjoy the treatments provided for couples, like the therapeutic massages to relax and rebalance your body.
See you at the gym
Some of us enjoy saunas while others prefer aerobics, some love swimming while others just like to relax in a jacuzzi no worries, Costa ships allow you to keep fit in whatever way you want, and at any time of the day. Gym, dance lessons, jogging: you can get involved in any sport on your own or with your friends.
Family cruising
Costa kid programme
From morning to night our entertainment staff are here to entertain children and teens, giving you the time to relax and enjoy the whole cruise and, if you like, while on excursions. For all children between the ages of 3 to 17, Costa Cruises entertainment staff are available every day from 9.00 pm to midday, from 3.00 pm to 6.00 pm and from 9.00 pm to 11.30 pm. This is a free group service. There are four Clubs: 2 for children: Mini from 3 to 6 years, Maxi from 7 to 11, 2 for teenagers: Teen Junior from 12 to 14, Teen from 15 to 17. Teen Junior is only active during certain periods. Children under the age of 3 are allowed to enter and stay in the room only during certain times (not during busy times in high season) and must be accompanied by an adult.
Parents Night Out
Costa gives parents travelling with children some time off by organising two events where kids spend the evening with other guests their age at a fun themed dinner (Squok, Pirates, Circus, Video games world, Halloween, WWF in the Jungle or Underwater) and fun activities designed especially for them. While the kids are being entertained, parents can relax as they enjoy sumptuous cuisine and a romantic evening together, feeling secure that their children are having while being supervised by our dedicated Youth Counsellors. With this programme, parents and children will both be pleased with the variety of shipboard activities and the warmth of Italian Style cruising.
Babysitting
While cruising is a vacation for the whole family, Costa also provides quiet time for Mom and Dad. That can be during the day, while the kids are entertained in the Kids Club program, or at night, while the kids are with group baby-sitters. Mini and Maxi Club nighttime group baby-sitting, held in the children's area, is a free of charge baby-sitting service until 1:30 am. There is no night time baby-sitting service available for children under 36 months of age.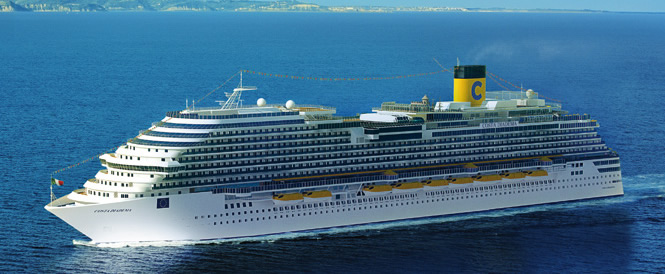 About Costa Cruise Lines

Costa Crociere S.p.A. is part of Carnival Corporation & plc, world leader in the cruise industry, and is a member of the prestigious World's Leading Cruise Lines, an association of the world's most important cruise companies.

All ships fly the Italian flag and operate in the Mediterranean, Northern Europe, the Baltic Sea, the Caribbean, Central America, South America, the United Arab Emirates, the Far East and the Indian Ocean.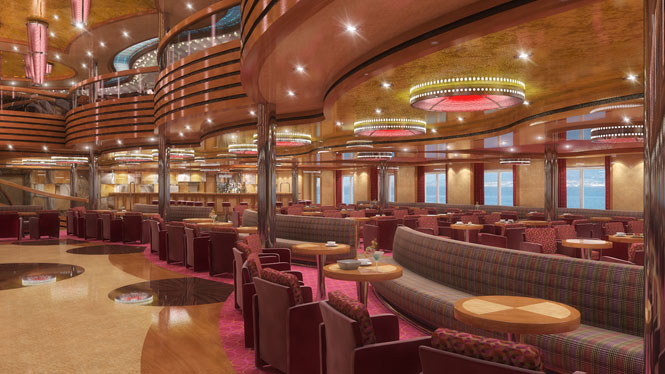 Love. Laughter. La Dolce Vita. For over 60 years, Costa Cruises has brought its special brand of Italian warmth and European sophistication to travellers around the world. "Cruising Italian Style" with Costa is much more than a voyage to a new and exciting destination – it's an experience that creates lifetime memories that linger and make guests smile at unexpected moments.
As Europe's Number One Cruise Line, Costa offers the biggest and best selection of sailings throughout the Mediterranean and Northern Europe. With Costa, guests can cruise the tropical splendour of the Caribbean, visit the vivacious destinations of South America, discover the stunning landscapes of Canada and New England or Northern Europe and the cultural and historical ports of call in the Mediterranean. They may even experience more exotic destinations such as Dubai, the Indian Ocean and the Far East. Whether venturing near or far, one constant will remain – Costa's gracious hospitality and warm, inviting ambience.

A stunning fleet of 15 modern ships offer the best of Italy at sea – including the Costa Atlantica, Costa Classica, Costa Diadema, Costa Deliziosa, Costa Fascinosa, Costa Favolosa, Costa Fortuna, Costa Luminosa, Costa Magica, Costa Mediterranea, Costa neoRomantica, Costa Pacifica, Costa Serena, Costa Victoria and Costa Voyager
Key Selling Points
Cruising Italian Style
Europe's #1 cruise line
Italian-inspired ships and ambience
True European experience
Cruise Innovator: unique routes, award-winning spa pro